Exclusive Bars and West End Restaurants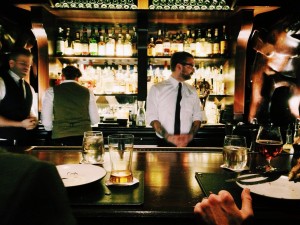 A night out in London always promises to be a good one. How about taking things up a notch with our range of VIP services though? From being driven around the capital in a plush limousine to seeing your name on one of the hottest guest lists, a night out Elite VIP Models style certainly won't disappoint! If you're thinking about heading to one of the city's best bars or restaurants with one of our ladies, here's what you can expect.
Where to eat and drink
Lots of our clients enjoy a dinner date with one of our beautiful girls. London is home to some of the best restaurants in the world, with Nobu and The Ivy serving up food that attracts diners from far and wide. One of our favourite restaurants, the Chiltern Firehouse, welcomes the rich and famous on a regular basis. One of our models could easily be mistaken for any of the beautiful celebrities sending the paparazzi into a frenzy outside. If you're after more of a low key evening though, then how about some drinks before a West End show? The London Cocktail Club and Hawksmoor are two of the best places for a tipple in our opinion – with great drinks, classy décor and fab atmospheres.
If you've ever dined out in London before though, you'll know how difficult it can be to secure a table at a great restaurant. If you choose to head out on a dinner date with one of our ladies, you can leave all of the hard work to us. We've spent plenty of time building up great relationships with some of the capital's best restaurants. As a result, we'll often be able to book a table for you and your date – no matter how short the notice.
Partying with the stars
Like the restaurants in London, we've established some close relationships with some of the city's best nightclubs too. So there's no need to worry about your name not being on the list – we'll make sure that it is! This VIP treatment will continue once you're in the club too, as we're able to secure a number of exclusive packages too. So, whether you're heading to Mahiki to rub shoulders with royalty or Fabric to do some celebrity spotting, you can party in style.
Hitching a ride
To make your date with an escort that little bit more special, why not take advantage of our luxury limousine service? You'll be able to travel in a limo driven by a professional chauffeur with one of the Elite VIP Models girls to keep you company. As well as the company of a beautiful woman, you'll be able to sample some Dom Perignon champagne during your journey too – and it's on us!
Be a superstar for an evening
Our luxury packages are perfect for those who want to make a night out in the city that little bit more special. Perhaps you're celebrating a special occasion, or just want to treat yourself. With so much to see and do in the city and a beautiful girl on your arm, one thing's for certain though. Your night out in London won't be anything less than spectacular!